Three journalism organizations at the forefront of exposing corruption drive important innovations that promote good government.
---
When Dapo Olorunyomi returned to Nigeria in 2004 after a decade-long forced exile, journalism in Nigeria was enduring both credibility and financial crises. Its professionalism had eroded.
After working as the chief of staff to the Executive Chairman of the Economic and Financial Crimes Commission, on his return, Olorunyomi established a digital newspaper, a nonprofit organization, and a fact-checking organization.
Today, Olorunyomi is a staunch advocate for Nigerian journalism and press freedom. The digital publication he co-founded and oversees, Premium Times, is one of several journalism and media organizations at the forefront of investigative journalism that exposes corruption and promotes government accountability and integrity in Nigeria. These organizations also train aspiring journalists in the diverse, west African country that is the continent's most populous nation.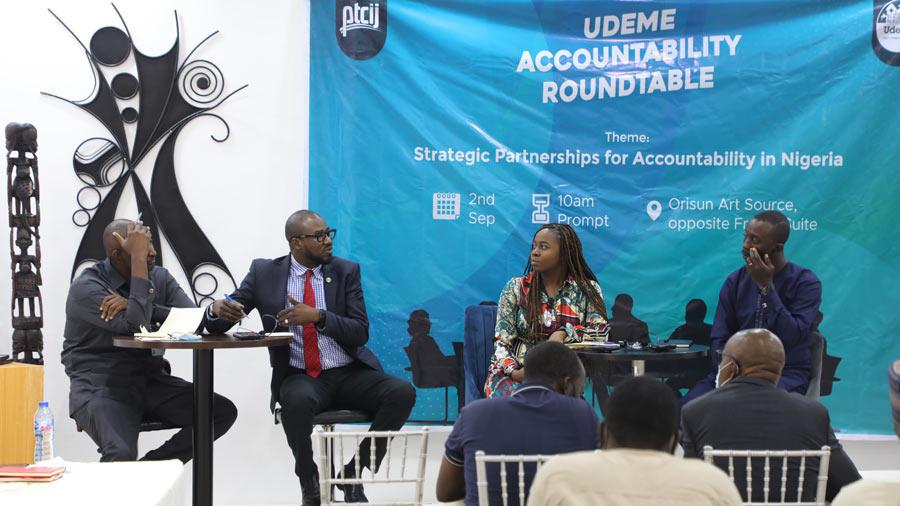 Udeme, an accountability initiative of the Premium Times Centre for Investigative Journalism, now known as the Centre for Journalism Innovation and Development, organized a roundtable in Abuja, Nigeria. (Photo courtesy of Centre for Journalism Innovation and Development)
"We came to offer a very modest solution to the crises that we thought were … subverting the essential goal of journalism," Olorunyomi said.
He established Premium Times in 2011 to advance socio-economic wellbeing and human rights and advocate for ethical government and transparency in developing Nigeria's democracy. The media organization based in Abuja has carried out several investigations exposing wrongdoing, including one that led to the resignation of Nigeria's former Finance Minister Kemi Adeosun over the forgery of her national youth service certificate. National youth service is mandatory for all Nigerians who graduate from university at or under age 30 and is required to hold government office and be employed in the private sector in Nigeria.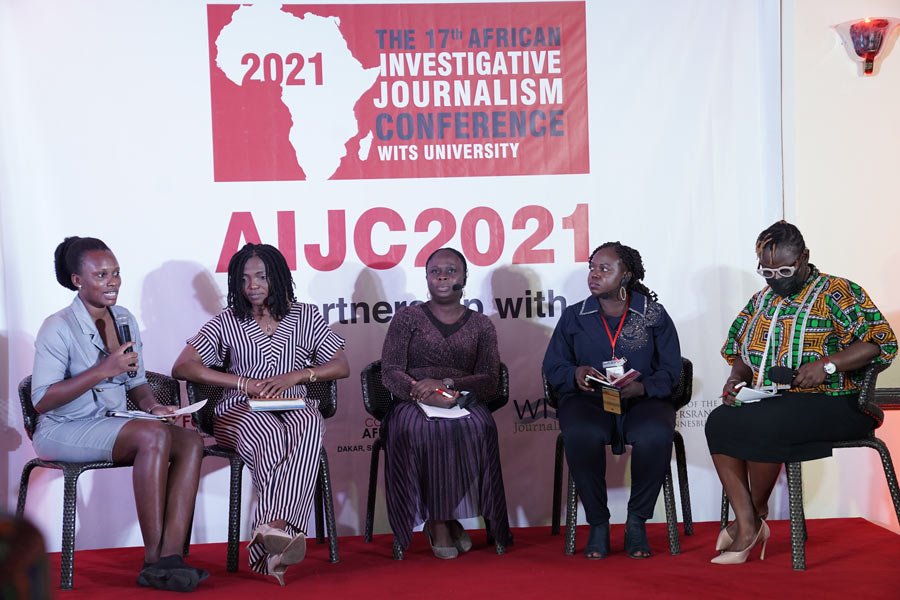 CJID co-hosted the "Spaces for Women in Investigative Journalism," a panel discussion at the African Investigative Journalism Conference in Abuja, Nigeria.
In addition, to advance gender equity and social inclusion in the media, Premium Times took a bold step in June 2021, creating a Gender section, that features critical stories on issues relevant to gender equality.
Before he established Premium Times, Olorunyomi was an editor for NEXT newspaper, where he helped create a five-person investigative desk with a mandate to work exclusively on investigations. NEXT closed in 2011 after experiencing financial challenges. He then helped establish Premium Times.
Three years later, Olorunyomi founded the Premium Times Centre for Investigative Journalism, the nonprofit arm of Premium Times. Recently renamed The Centre For Journalism Innovation & Development (CJID), it later launched Udeme, a website that tracks publicly funded capital, constituency, and ecological projects and writes investigative reports on the efforts. CJID also has established Dubawa, a fact-checking platform to debunk misinformation.
CJID trains and provides grants to journalists who expose corruption and environmental and gender crimes. In addition, the Centre trains and mentors campus journalists across Nigerian institutions.
'Changing Nigerian Society for Better'
---
Like Olorunyomi, Simon Kolawole said he launched TheCable online newspaper in 2014 to deliver "knowledge-driven journalism in the pursuit of Nigeria's progress."
"We set out to promote the kind of knowledge that will contribute to changing the Nigerian society for the better."
"We set out to promote the kind of knowledge that will contribute to changing the Nigerian society for the better," said Kolawole, TheCable publisher.
Part of its mission is producing investigative projects on various issues, from large-scale corruption in Nigeria's oil and gas, power, education, and health sectors to local corruption at a girls' school where leaders misused funds—actions that resulted in water contamination, children's deaths, and ensuing cover-ups.
TheCable also has launched several innovative projects to promote accountability and sound government.
In 2016, it established the Cable Newspaper Journalism Foundation (CNJF), a nonprofit using journalism to advance transparency and accountability in government. CNJF also promotes citizen participation in democracy and development.
Two years after creating CNJF, TheCable ran the first live fact-check of a presidential debate in Nigeria. CNJF hopes to launch Nigeria's first multilingual fact-checking service in 2022.
"It was so defining that since then, media houses in the online space now run regular, live fact-checks of political debates, including the recent Anambra election," Kolawole said of that state's vote for governor on November 6, 2021.
Beyond those initiatives, TheCable trains journalists in core investigative skills and data analysis and mentors students and emerging journalists, expanding the network of investigative reporters and promoting a culture of investigative work in Nigeria. In addition, TheCable in 2020 launched TheCable Index, which makes complex COVID-19 data and related information more accessible for readers.
Like CJID, it also started publishing books as part of a multi-stream revenue model.
Purging Nigeria Media of Political Influence
---
A third innovator, Daily Trust, emerged in 2007 to address the lack of trust in journalism, especially in northern Nigeria, where political influence was growing in the media industry.
"We wanted an independent, credible media that was not beholden to any interest."
"The media were succumbing to powers that be, whether political or business," said Malam Mannir Dan-Ali, Director of Media Trust Limited, the Daily Trust's parent company. "We wanted an independent, credible media that was not beholden to any interest, which is what we have tried to do."
A collective of investors—not an individual—owns Daily Trust. That distinction gives the outlet a more diverse leadership perspective and lessens the likelihood that undue influence will be exerted over a media enterprise.
One of Daily Trust's more recent innovations, and an indication of its shifting online emphasis, is the launch of Trust Plus, a digital platform that provides exclusive content for members on a subscription basis. Students may access the content for free. Daily Trust also offers its documentary-focused Trust TV, a podcast, and a weekly publication in the Hausa language.
And, in an initiative similar to those that Premium Times and TheCable established, Daily Trust launched the Daily Trust Foundation in 2016 as a charitable arm to support students. The Foundation trains, mentors, and offers field support to 150 young journalists who show a commitment to advancing social change and strengthening the fight against corruption.
More Hard Work Needed
---
"Corruption is still present in Nigeria, and it will take a lot more hard work before you can say we have achieved significant progress."
Premium Times, TheCable, and Daily Trust have made progress reducing corruption and promoting transparency and accountability in governance, Olorunyomi, Kolawole, and Dan-Ali agreed. And resource support has allowed consequential investigative journalism to expand in Nigeria, Olorunyomi said.
He is optimistic that recent innovations in journalism will be transformative for the country.
But the work is in its early stages and needs to continue growing and building momentum, Dan-Ali said.
"We are still on the way," he added. "Corruption is still present in Nigeria, and it will take a lot more hard work before you can say we have achieved significant progress."
---
Since 2019, MacArthur has provided The Cable Newspaper Journalism Foundation, Daily Trust Foundation, and Premium Times Centre for Investigative Journalism/CJID with a total of $5 million in support. In 2020, MacArthur also contributed $250,000 over two years to CJID as part of the pooled Civic Defense Fund that includes support from the Ford Foundation and Open Society Initiative for West Africa.