The Daily Trust Foundation, with support from MacArthur Foundation, has organized a three-day workshop on multi-media reporting. The workshop held at the Daily Trust Foundation Training Hall from Monday, March 29, 2021 to Wednesday, March 31, 2021.
The workshop was borne out of the need to deepen journalist's strength on ICT and the new media. Journalists in the 21st century do not have the relevant skills and would be phased out of the journalism profession unless they develop the necessary skills in multi-media reporting.
The Chairman of the Daily Trust Foundation, Alhaji Bilya Bala, was represented by Malam Umar Abdullahi, a board member of the foundation. He said, "As legacy media have given way for multi-media, the onus rests on journalists to acquire new skills set, discipline, and attitudes to be relevant in the journalism profession".
Alhaji Bala called on participants to effectively utilize the workshop to improve their journalism skills.
Also in attendance was the CEO of Media Trust Limited, Malam Nura Daura, who said that multi-media reporting is the 'It' thing. He said the workshop came at the right time because everything has turned digital.
"MacArthur Foundation has continuously given support to the Daily Trust Foundation for the past four years. This wouldn't have been possible without them. We plan to do more of these trainings in 2021. There is a lot to take away from this training, I encourage you to make the best use of this opportunity", he said.
The Editor-in-Chief of Daily Trust, Malam Naziru Mika'ilu, said the objective of the training was to equip journalists with the modern way of reporting. He said "Journalists are competing with people who are not journalists but content creators. In today's world, people are reporting events as it occurs, therefore we need journalists to acquire skills to compete", he said.
The facilitators included media consultant, Perry During, who spoke on Introduction to Mobile Journalism: A Reporter's experience, using mobile phone video, audio and photo cameras for reporting (Practical) and Digital video and audio content production; CEO Folks Media Concept, Gideon Jesse, who spoke on Introduction to digital editing software; and data analyst, Dataphyte, Charles Mbah, who spoke on Data Journalism: Introduction to Excel and Data Visualization apps.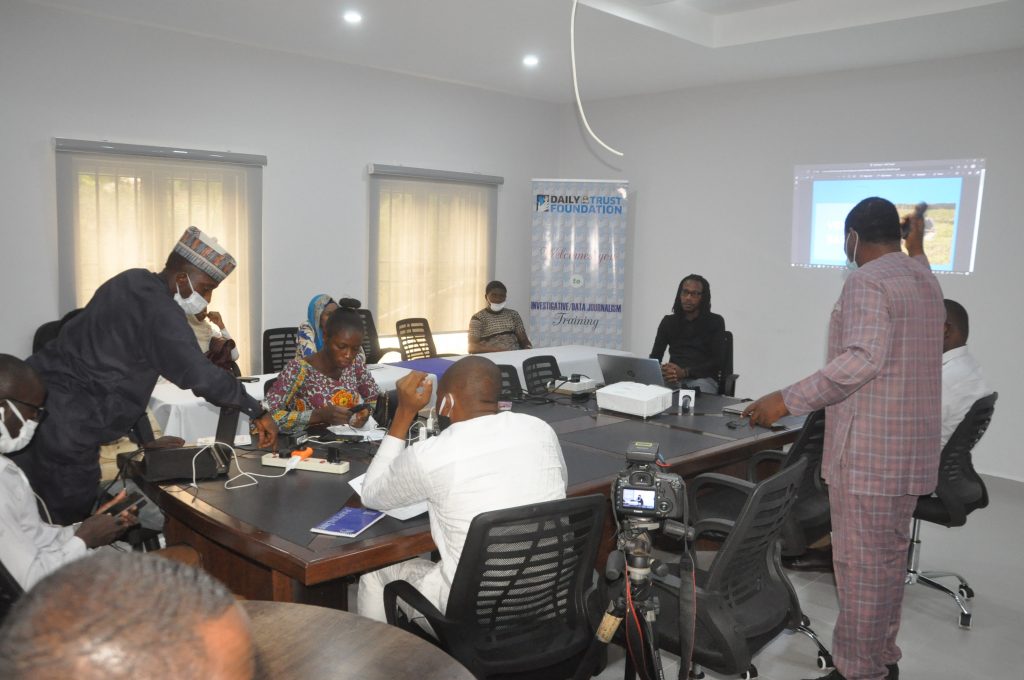 Others were media consultant, Aveseh Asough, who spoke on Social Media Journalism: Use of Twitter, Facebook, Youtube, Instagram as sources of story ideas and to promote stories; and the CEO of Media Range Limited, Hassan Abdul who spoke on Digital Marketing I: Search Engine Optimization (SEO), Search Engine Marketing (SEM), content optimization and brand awareness, and Digital Marketing II: E-mail direct marketing, social media marketing, data-driven marketing.
There were thirty participants from different media present at this workshop. They included journalists from Daily Trust, Primorg, Blueprint, Humangle Media Ltd, the Authority, Peoples Daily, Daily Nigerian, National Accord, NTA, and the Daily Trust Foundation.
Below is a short clip of the event.