By Theophilus Abbah
On October 12, 2018, Romoke Ahmad, a reporter with Daily Trust, received a shock at a press conference in Ilorin, in relatively peaceful Kwara State. Not under the shadow of bandits, not under the radar of terrorists, Ilorin should be a safe place for journalists to practice media and journalism. But at the press briefing, organized by the All Progressives Congress (APC), then an opposition party gathering momentum to wrestle power from the Peoples Democratic Party (PDP), a man pointed at her, saying "this is the lady who did the report." Still lost at what a member of the APC meant, Romoke was shocked that thugs quickly surrounded and began to assault her. Luckily, she lives to tell the story.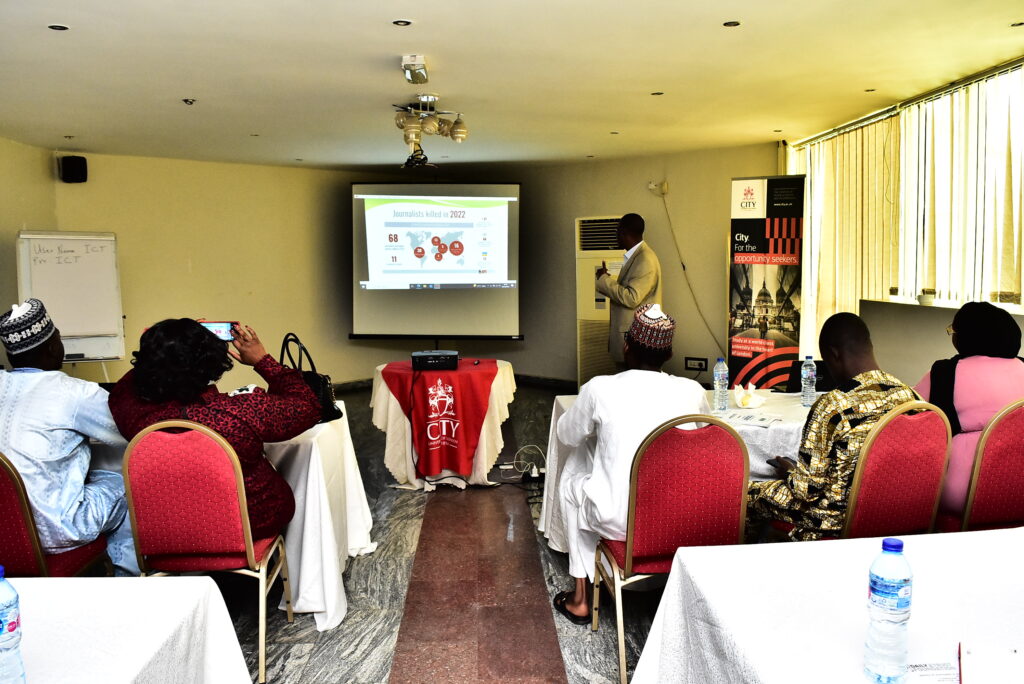 Politicians are suspicious of journalists:
Romoke explained what happened to her thus: "In an election year, journalists are in dilemma. The ruling party wants reporters to declare a blackout on the opposition. On the other hand, the opposition assumes that any journalist who reports the ruling party positively is an enemy."
Against the assumption that only journalists who cover conflicts are at risk and should take safety measures seriously, Romoke was not attacked in Borno, Yobe, Zamfara, or any of the states plagued by terrorists and bandits. She was assaulted in peaceful Kwara State.
At a one-day workshop on Safety of Journalists in Conflict Reporting, put together by City, University of London, and Daily Trust Foundation in Abuja on January 19, 2023, it came out clearly that Nigerian journalists, not only those who cover violence, must know what it takes to protect themselves and deliberately take steps to protect themselves.
The lead facilitator at the workshop, Dr. Abdullahi Tasiu Abubakar, who is the Director of Ph.D. Programmes in the Department of Mass Communication, City, University of London, told participants, drawn from 12 media houses, that journalists must not relegate their safety to the background, no matter the beat they cover.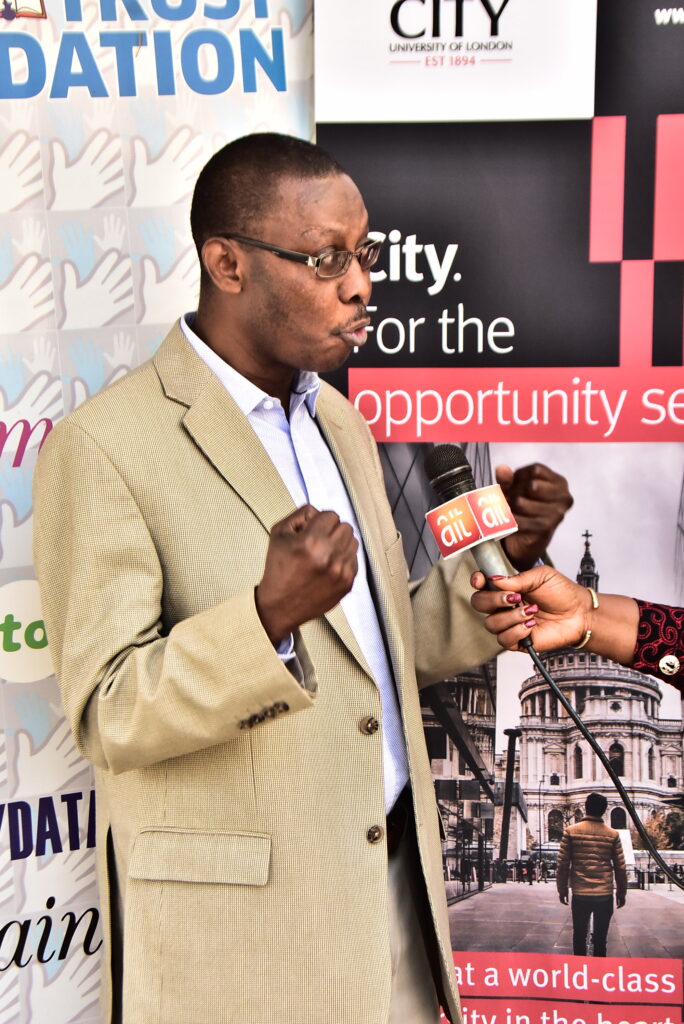 Risk Analysis
"You must do risk analysis of any assignment you are to cover, especially if you cover conflict zones," Dr Abubakar told the 22 participants. "You should be able to think about possible challenges you'd face on the field. If you are to cover a protest, you must be sure you are safe, wear shoes that would enable you to run if a protest turns violent; you must keep a distance from protesters; must ensure you're not asthmatic, and if you are,  don't get exposed to teargas by the police…"
At the workshop, participants were taken through what they must do and what they must not do in different scenarios, like covering banditry and terrorism, while conducting investigative reporting or interviewing criminals; if kidnapped or when covering political rallies, etc.
Nigeria as a big conflict scene
During the discussion session, led by Dr. Theophilus Abbah, Programme Director, Daily Trust Foundation, hypothetical scenarios in the country were considered. Dr. Abbah described Nigeria as a scene of conflicts, arguing that journalists must think of safety in whatever beat they cover.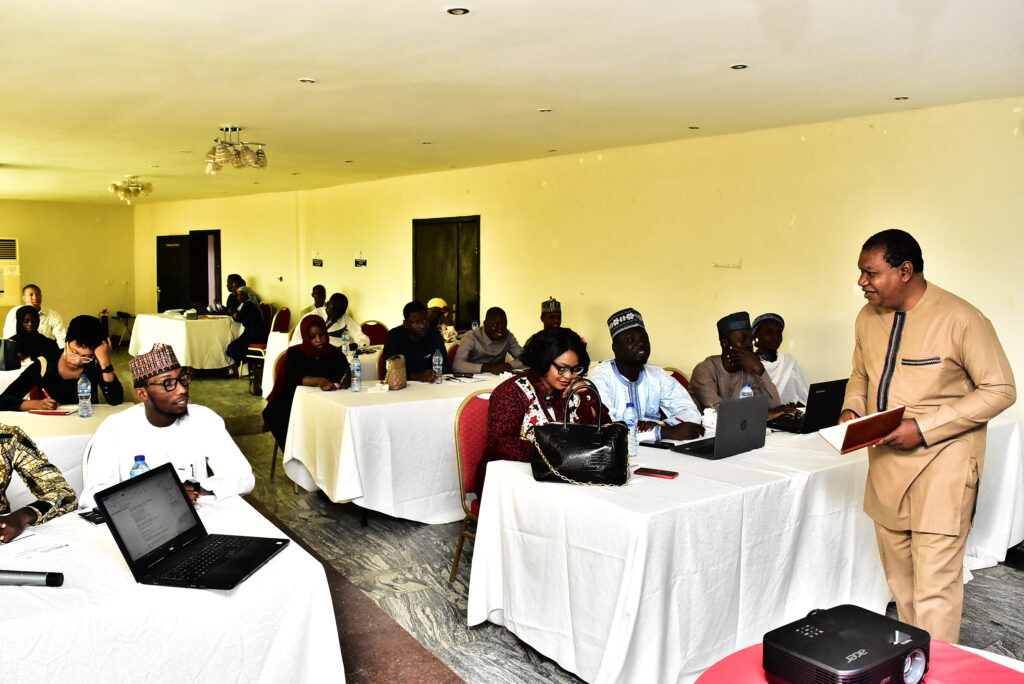 Using data sourced by the Centre for Journalism Innovation and Development (CJID), on Press Attacks, between 2017 and 2022, Dr. Abbah said as many as 266 journalists had come under attack, many of them, like Romoke, physically assaulted, kidnapped by bandits, denied access to political events, arrested and detained by security operatives, shot at by gunmen, barred from covering courts, threatened by governors and their lackeys, and their equipment confiscated or destroyed.
The data sourced from news reports by the CJID indicated that journalists are at risk in all states of the federation, but below are the nine states where journalists have come under pressure.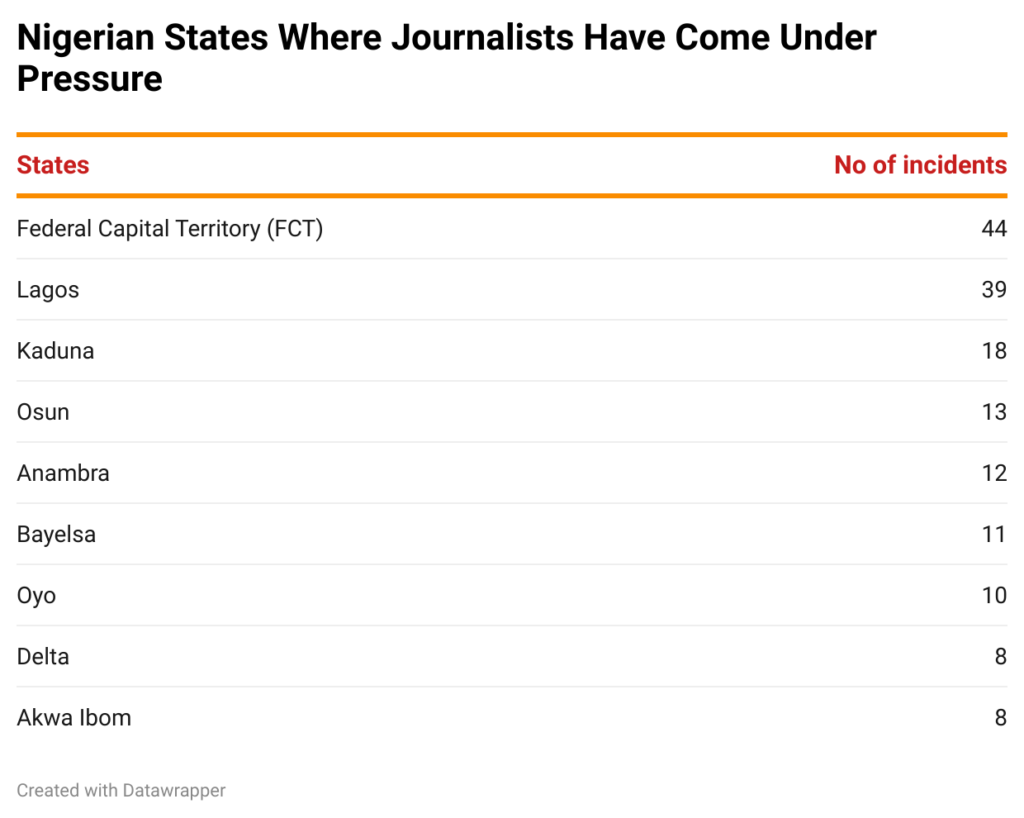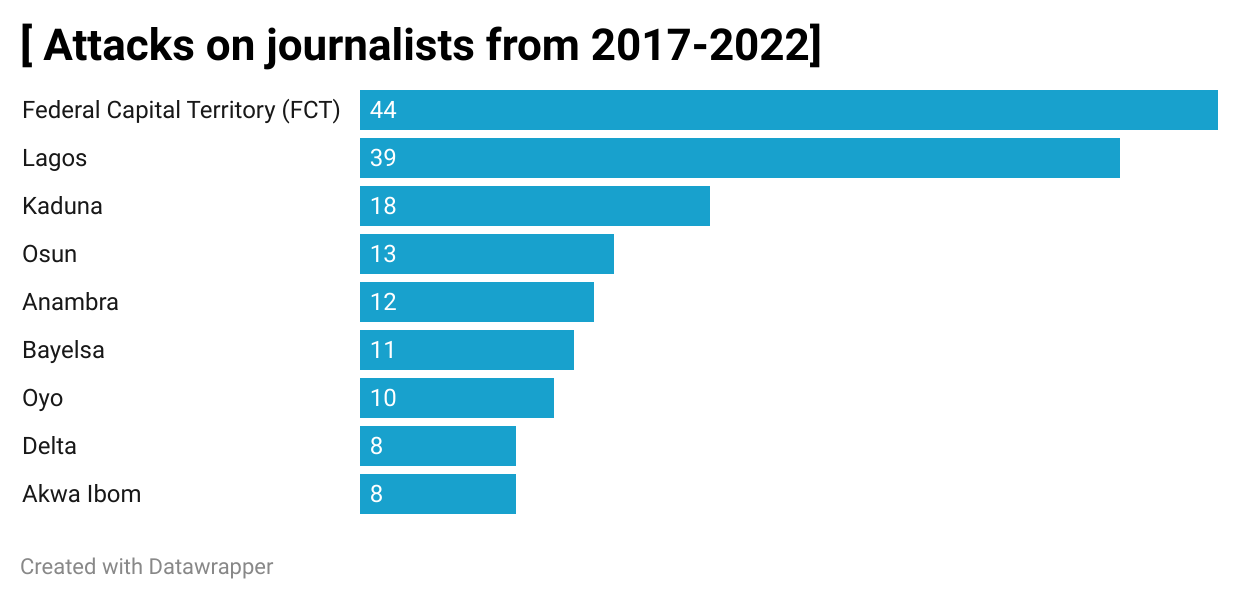 Other states that feature on the chart for multiple attacks on journalists include Edo, Abia, Kogi, Ebonyi, Bauchi, Nasarawa, Kwara, and Ekiti States.
Journalists, beware
Journalists come under attack the most in election years. The incidents in most of the states occurred before and during the conduct of elections. It follows that at the minimum, journalists must be on guard when covering election rallies and during the voting process. There were many instances in which journalists were assaulted by thugs and security men while taking photographs of vote buying and abuse of the electoral process. Unfortunately, security operatives did little or nothing to stop those reporters from being assaulted.
Apart from attacks during elections, the following are circumstances in which journalists have come under serious attacks in Nigeria, as reported by CJID.
Banditry and Terrorism
Exposing the fraud of Government Officials
Protests
'Cyberstalking'
NBC fines
Security personnel
Law courts
Pandemic
Political restrictions
Investigative Reporting.
How journalists can ensure safety
Malam Mannir Dan-Ali, a former Chief Executive Officer and Editor-in-Chief of Daily Trust charged journalists to keep to the basic rules of journalism as a way of protecting themselves from danger. These include the rules of fairness, balance, objectivity, neutrality, and basic safety tips for every journalist. Those who practice journalism in line with the profession's tenets may not be exposed to too many hazards. Mannir said, at Daily Trust, reporters in conflict zones are carefully selected to ensure none is exposed to danger. According to him, "in Plateau State, for instance, Daily Trust had to hire multiple reporters. Some who are Christians report crisis from the perspectives of Christians while we have Muslims who report the experiences and views of Muslims. This way, the reporting is balanced and no journalist is put at any risk. As you know, Jos has since been sharply divided along religious lines, to the extent that residential areas are either Muslim or Christian. We have to ensure all sides are given fair coverage in our reporting."
To ensure safety, journalists must keep to basic rules. Some are as follows:
The management of their organizations must be well informed about any assignment they are engaged in, to ensure they have the organization's protection in case things go wrong while they are on the field.
Journalists should ensure they have fixers if they are entering into conflict zones or unfamiliar terrains. Such fixers would introduce them to sources, arrange transportation, guide them through the dos and don't of the community, and put in words for them in case there is a misunderstanding. Fixers should be versatile and respected persons in the community.
It is important to travel with extra cash when covering the conflict. The money will be readily available in case of an emergency arises.
If a journalist is going to engage in reportage in areas where bandits operate, s/he must not be flamboyant in dressing. S/he must wear dresses that would not inhibit him or her, in case of emergency.
In covering riots, reporters must stay a distance away from rioters so that they are not caught in the crossfire between security operatives and rioters.
Also, journalists who cover protests must clearly identify themselves as journalists. The rule of engagement in protests is that journalists should not be harmed. However, if a journalist notices that s/he is exposed to danger, s/he must move to safety.
As much as possible, work with police or security operatives, but don't trust them too much.
For those who do video recording, it is good to use a good mobile phone for the task instead of carrying sophisticated cameras to conflict zones. There are now sophisticated mobile phones that could record as well as video recording cameras.
It is important for journalists to buy a life insurance policy; media organizations could buy workmen compensation policies for their staff, to ensure compensation for those who lose their lives in the line of duty.
It is important to have more than one mobile phone when covering an unfamiliar terrain. In case a journalist loses his regular phone, he could use the spare phone to make calls.
When choosing a hotel to lodge, a journalist must read up a review of the hotel, or ask those who are familiar with the hotel to provide an insight into its strengths and weaknesses. Lodging in a brothel or hotels that run at night clubs may expose a journalist to danger. Also, it is advisable to lodge on the upper floors, not the ground floor. In case there is a crisis, living on the upper floors would give a journalist the advantage of preparing for exit, instead of being caught unaware, as could happen if one is lodged on the ground floor.
Journalists who are living with one ailment or another; or those who have allergies must travel with the necessary medications.
It is good to conduct interviews in pairs. One member of the team could pose as a cameraman or note-taker. A violent source would think twice before attacking two journalists.
Journalists must not demonstrate bias when conducting interviews; journalists must be neutral. Let neutrality show in the way questions are asked and how responses to questions are received.
There are many precautions to take. However, it is important for journalists to use their common sense to assess whatever situation they find themselves in to avoid being hurt or attacked. For instance, it is not smart to resist it if a gun-trotting criminal asks a journalist to leave a scene or a venue of an event. Not obeying could be dangerous.
Dr. Abbah is the programme director, of the Daily Trust Foundation, and a Fellow of the Chartered Institute of Forensic and Fraud Examiners of Nigeria. You can follow him on Twitter @theophilusa.